Create an original place for meeting with your customers with our air sealed tents that provide you with comfort and mobility while protecting you and your customers from adverse weather conditions. Choose the solution that will allow you to avoid continuous power usage and will at the same time serve as an accurate advertisement of your brand.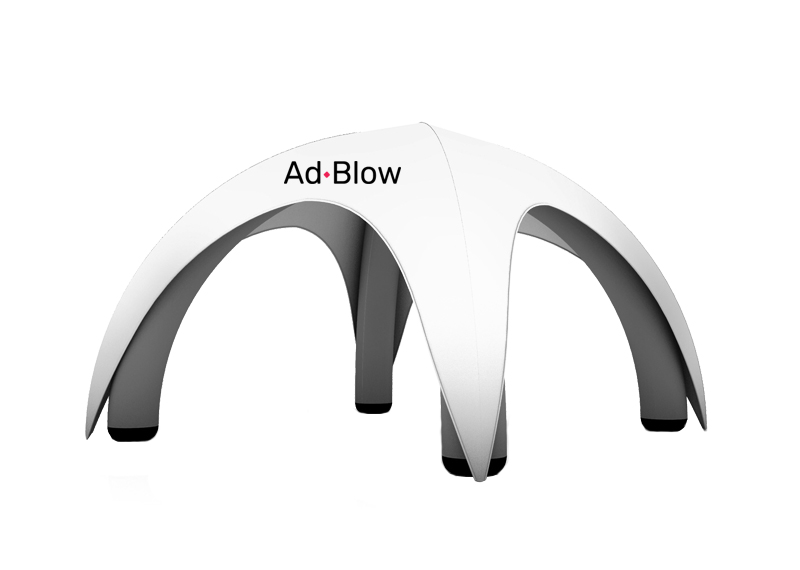 Up to 100% covered with print
PVC Polyester coated fabric
Air sealed tents that we would like to bring to your attention are perfect for outdoor events, fairs, festivals, and expos – i.e. any place where you might need a secluded area for your customers with an eye-catching advertisement on it. Install the air sealed tent extremely fast and enjoy one of a kind promotion of your company.
We manufacture our tents to be a combination of air sealed inserts in the form of poles and the polyester coated flysheets. This is a highly durable fabric but also, it is very good to wear imprinted content. Tell us what would you like to have on the poles and the flysheet and we will print it for you using the dye-sublime technique.
Use our tents to attract customers' attention and stand out from your competition. Express your originality at commercial expos and outdoor events with an eye-catching tent with your company's logo on it.
Contact us to learn more about our offer. If you decide you want something special – just let us know about it. We will help you configure your tent to fit your exact requirements.
What sizes are available?
Internal dimensions
4m x 4m
Internal dimensions
5,5m x 5,5m
Available Versions
Tent with full print with walls
Tent with full print without walls
Tent with no print with walls
Tent with no print without walls