Enrich your event by installing air sealed gateways that advertise your company for you. Bestow an entirely new quality upon outdoor events with our air sealed gateways that one can quickly and effortlessly install at his or her exposition. Present your brand to potential customers and stand out with an unconventional and presentable advertisement.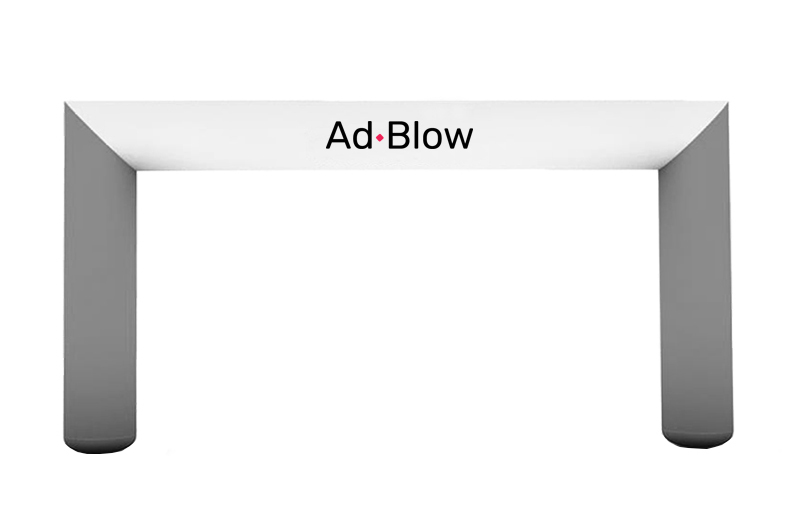 Coloring of the print in full color
Up to 100% covered with print
Solvent / Dye-sublimation printer
PVC Polyester coated fabric
Air sealed gateways are a perfect remedy to the problems related to distinguishing your company at an event. They are perfect for running races, rallies, and other such outdoor events. You can put your logo along with your partners' logos and other content and pictures that are relevant to you on the gateway.
Select one of the three available gateway shapes, choose graphics we will imprint for you using the dye-sublimation technique on the polyester jacket to cover the gateway, and enjoy the effective advertisement. You can inflate our air sealed gateway easily with either an electric or a foot pump, both of which are also available in Adblow's offer.
With Air sealed Gateways, you can enrich any outdoor event without looking for power outlets. Inflate our gateway only once and enjoy its high quality and silent performance, which is difficult to find in inflatables with a built-in cooling fan. Use the gateways each time you want to limit power consumption or avoid unnecessary cables that clutter your workspace.
We provide solutions that help companies stand out at outdoor events and commercial expos. Thanks to our solution, dozens of companies, also those from outside our region, have now the ability to reach out to their customers in a memorable manner.
What sizes are available?
Polygonal Gateway
Internal dimensions
3m × 2,4m
4m x 3m
6m × 4m
Arched Gateway
Internal dimensions
6m × 4m
8m × 4m
Rectangular Gateway
Internal Dimensions
3m x 2,4m
4m x 3m
6m x 4m